Simulate high accuracy patient recruitment
Feasibility study
Feasibility study is conducted from patient recruitment point of view based on the protocol and area of sites by experienced CRA and CRC consultant. High accuracy recruitment simulation is performed based on the over 10,000 per year enrollment performance data and patient volunteer database that we hold. In addition database patient research and protocol design support can be implemented.

Research on patients to define -ideal subject profile for the protocol
Research on the volunteer database member of the target disease
Affinity research of potential site and volunteer database

Leverage patient insight in recruitment
Patient insight research
Conduct questionnaire, interview (quantitative / qualitative research) to volunteer database based on the protocol.
Collecting the voices of patients with same symptoms and their family to clarify ideal patient profile. Better patient recruitment strategy planning and recruitment can be implemented with this.
In addition, conducting this research while designing the protocol will help protocol development to consider patient insight.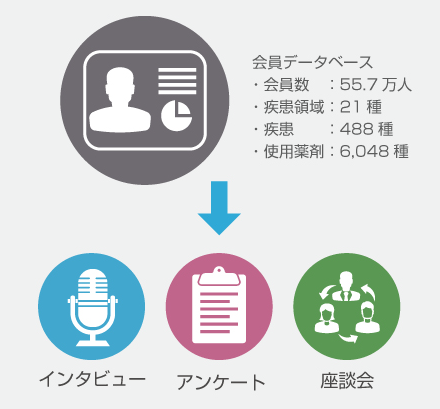 Effective one stop recruitment strategy
Recruitment strategy planning
For efficient patient recruitment, -having not only site selection and recruitment method but various perspectives such as promoting patient understanding of clinical trials
-and improving their motivations preventing them from dropping out from the study is necessary.
Understanding the patient is the base to combine various methods effectively.
We propose high accuracy recruitment strategy that best fits the protocol based on patient insight research and past achievement.