Visualization of each site's performance
Site selection support
Thanks to our unique site selection support tool "PASSMAP", it is now possible to make a much more effective site selection. Our tool displays the information from our volunteer database (which contains over 557,000 members) together with the candidate sites on a map. By being able to visualize the sites with high accumulating capacity of patients- , PASSMAP contributes to earlier completion and cost reduction in clinical trials.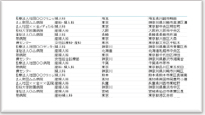 Difficulty to grasp the locations of the each site.
The performance of the sites are unclear.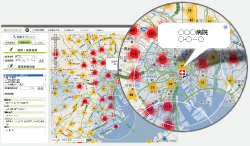 Visualize the sites on a map
Search for sites by medical field
Display the collation of patient number between the data from sites and the one from our database *SPE(Site Performance Evaluation)

Central IRB + case series = cost reduction
Site Introduction
By linking the data from our database to information on over 1,ooo sites nationwide including sites from SMONA, our affiliated sites and clinical trial-focused clinic, we realize accurate simulation and offer the best sites which fits the protocol.
By managing the sites, We utilize central IRB and clinical trial-focused clinic that lead to cost and burden reduction in clinical trials.